Corrie Tan: De-heimatize Belonging Conference: making the familiar strange
27.10.19
Corrie Tan: De-heimatize Belonging Conference: making the familiar strange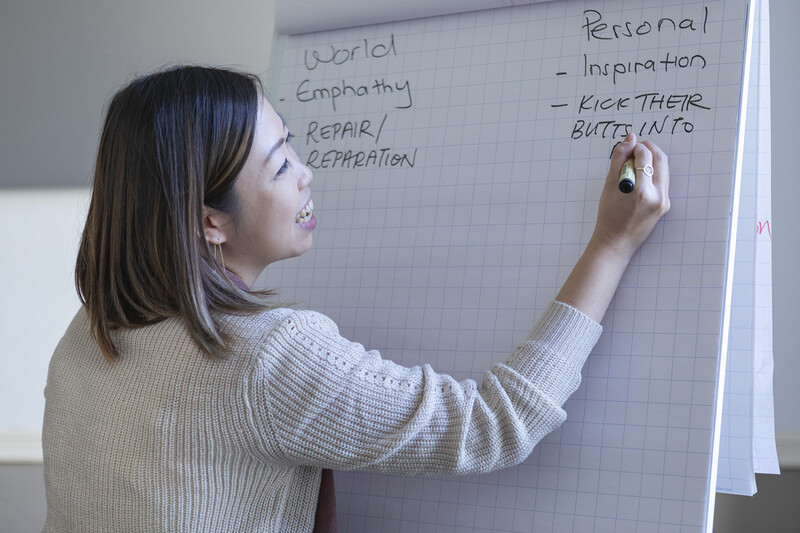 Corrie Tan: Deheimatize Belonging Conference: making the familiar strange
We've had an intense academic conference to open the YCA – steeping us in discussions that deconstruct and question the specific Germanic notion of the »Heimat« (roughly translated as "homeland", but gathering from the various conversations and presentations, also something much more complex than that). The YCA participants are set to properly wrestle with this concept in our individual contexts in our first small-group discussions later today (Monday, Oct 28) now that we've sat with the concept for an entire weekend.
Prof Dr Bilgin Ayata began the conference with a Prologue that fractured the sense of the »Heimat« as an attractively warm, cozy and nostalgic "retrotopia" but something that has been politically appropriated to fuel the rise of the ordered, bordered nation. The subsequent panels began to run in other directions both with and against and around the theme. Panel 1 dealt with racialised senses of belonging and how the »Heimat« concept might be transferred to other contexts and other continuities – Prof Dr Robbie Shilliam, for instance, gave us a concise but thorough case study about how the "the working class" has become an insidious substitute for "the ordinary white man" in the UK, then carefully repudiated that through the horrific disaster of the Grenfell Tower fire. Panel 2 looked at new digital technologies and how they have the potential to redistribute power – but also reinscribe them through the hidden agencies and infrastructures of optimisation (Prof Dr Seda Gürses' presentation) and also the dark side of what we think of as an open and generous notion of "sharing" (Prof Dr Nishant Shah). Prof Dr Gürses highlighted seemingly innocuous (and often efficient and collaborative!) platforms such as Pokemon Go and Waze, and how they partake in algorithmic discrimination, disregard non-users, or "capture and manipulate behaviour and environments for the extraction of value". In Panel 3, it became clear that gender often serves as an empty signifier that can run the risk of being "filled" by right-wing parties that then form anti-gender movements and style queerness as a foreign conspiracy to overthrow the coziness of the »Heimat« of the nuclear heteronormative family. And finally, Panel 4, academics and practitioners (and sometimes both!) from across diverse communities in the United States, Germany and the Philippines discussed what de-heimatization means in action, often ignoring the notion of »Heimat« altogether for other possibilities of imagining home and belonging.
But I wanted to pay attention to the Epilogue of the conference, which invited Michelle Higgins and Prof Dr Gina Athena Ulysse to reach for something much deeper within us, beneath skin and sinew and beyond bone, into the vibrations between the spaces of the atoms that make us who we are. I wonder what it might have been like if the spiritual and the sacred hadn't been confined to the end of the conference as a kind of emotive bookend, but something that seeps into every part of this labour of unpacking and unpicking. But what a rallying call it was, a closing invocation to anoint us with new knowledge but also to help shoulder and tend to each other's great pain and grief.
Michelle Higgins, drawing from the conventions of the call and response in black church preaching and congregating, takes us through what is both burial and baptism, both a kind of awful death but insistently hopeful rebirth. While she doesn't come from the lineage of "kings and queens" of Africa, but from the smaller tribes that were conquered, transacted as tribute, enslaved – she takes her body as a site of radical hope. "I carry a blueprint of a world I have never seen," she proclaims, and rejoices in the fact that "my ancestor's wildest dreams would become the mandate of my life." Her final question to us has to do with continuing the fight regardless of how victory constantly lies "just over there", just slightly beyond our reach.
Then we close with Prof Dr Gina Athena Ulysse, sitting in one of the last rows of the Gorki Theatre, whose voice hurls itself not just to the far reaches of the space but also into the spaces of my heart I have not even yet felt and did not know existed. I don't understand the language she is singing in, that she is calling out to us in, as she rises from her seat and makes the slow, deliberate journey to the front of the room. But I am weeping and weeping, the front of my shirt is drenched, and I cannot stop it and I do not know why. Around the room I see faces glinting with tears. She is doing a Haitian rasanblaj. From her website: "assembly, compilation, enlist- ing, regrouping (of ideas, things, people, spirits)". She makes us say the word, and we say it with a kind of awed reverence, like a mantra, we taste it on our tongues and lips. Rasanblaj. Rasanblaj. Rasanblaj. "History is how the secular world attends to the dead," she says. And it is true. We are attending to our dead in a different way now, bringing grief into sharp relief as she alternates between reading out a seemingly-endless list of numbers drawn from the millions who died crossing the Atlantic Ocean between Africa and North America – and then the song that makes us shiver in our souls. We all know we are witness to something very precious and very beautiful and must hold this moment with care, and build it with care, and that one of the reclamations or reimaginations of home is to construct one anew.
Gina says, close to the end: "Without new vision, we don't know what to build; we only know what to knock down." This feels like a summoning that might set the trajectory of the Young Curators Academy, for us to invent new vocabularies of belonging, to act instead of the constant compulsion to react.
----------------------------------------------------------------------------
Corrie Tan recaps the De-heimatize Belonging conference that took place from 25-27/October at Gorki and Humboldt University Berlin as 4. Berliner Herbstsalon´s discoursive intervention and was attended by YCA participants as the beginning of their academy. The conference is documented in videos: