Ausstellung zur Aufarbeitung des NSU-Komplexes
1/October/2021–13/March 2022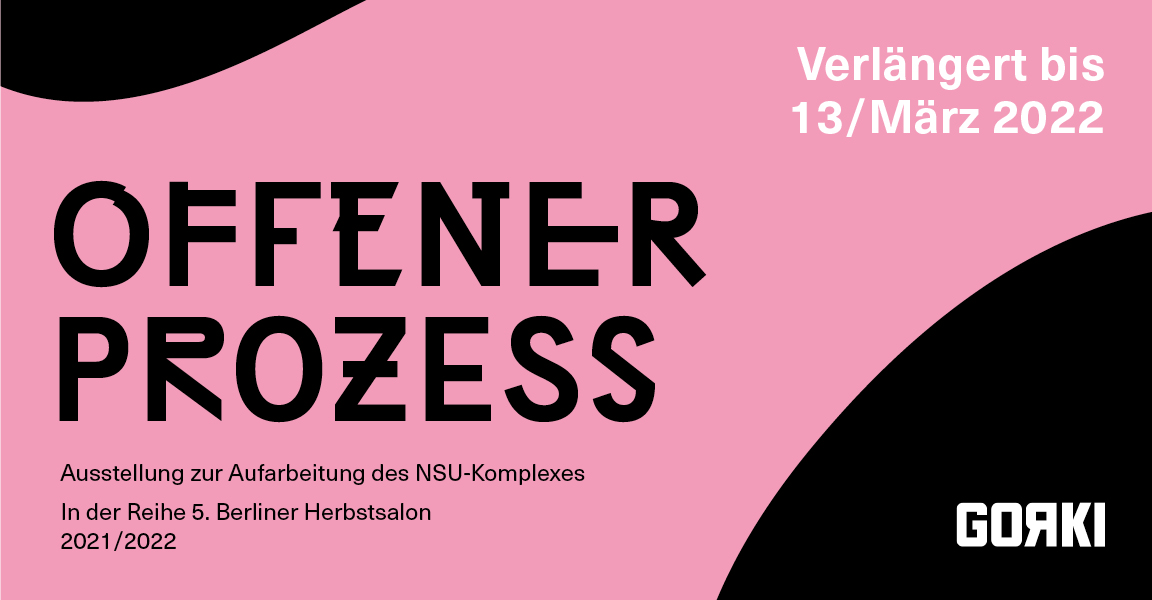 The exhibition Offener Prozess disentangles the complicated backdrop that paved the way to the serial murders committed by the far-right terror group NSU between 2000 and 2006. Challenging the official and popular narrative that insists on defining the atrocities as isolated cases of ideological fanaticism, the project highlights various layers of the institutional racism that has openly or latently infused into the operation of state apparatuses and daily life. In contrast to the paralysing ascription of victimhood to the ones who lost their lives, several works in the Offener Prozess give voice to their relatives and communities, who reject to be a part of the silencing consensus imposed on them.
Artistic contributions by Harun Farocki, Pınar Öğrenci, belit sağ, Želimir Žilnik, Ulf Aminde and Forensic Architecture, among others, explore the realities of the lives of guest workers, migration stories, everyday life in Germany, right-wing terrorist violence and everyday racism.
The exhibition Offener Prozess is extended: From 16/December to 13/March/2022 it can be seen in condensed form daily and with free admission at the Gorki Kiosk.
Opening hours:
Mon - Fri: 4-10 pm
Sat + Sun: noon-10 pm
Gorki Kiosk, Dorotheenstraße 3
FREE ADMISSION
Guided tours:
Guided tours in German and English (and optionally Turkish) will be offered throughout the duration of the exhibition. 
Guided tours in German take place every Wednesday at 4 pm (12.1., 19.1., 26.1., 2.2., 9.2., 16.2., 2.3., 9.3.). 
Guided tours in English will take place every fortnight on Fridays at 4pm, i.e. 14 Jan, 28 Jan, 11 Feb, 23 Feb, 11 Mar and additional date on 13 Mar at 2pm. 
Guided tours in Turkish are offered as an option on 11.2., 11. and 13.3. If you would like a guided tour in Turkish on these dates, please indicate this when registering.
Participation in a guided tour requires prior online registration at besucherservice@gorki.de and is limited to 10 participants per tour. The tour is free of charge and lasts 30-40 minutes. Meeting point is the Gorki Kiosk.
We recommend bringing your own wired headphones for the exhibition media. They can also be borrowed on site.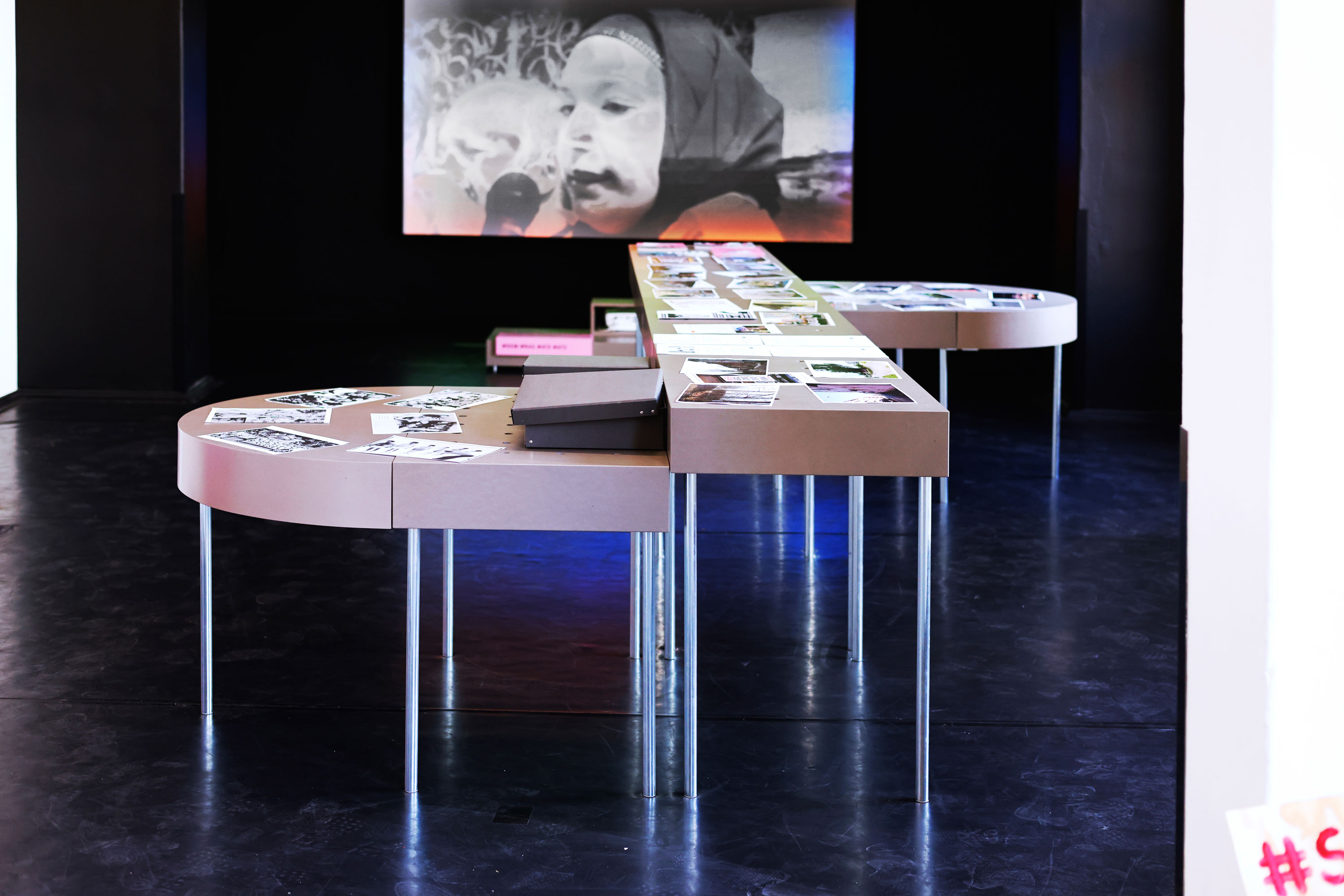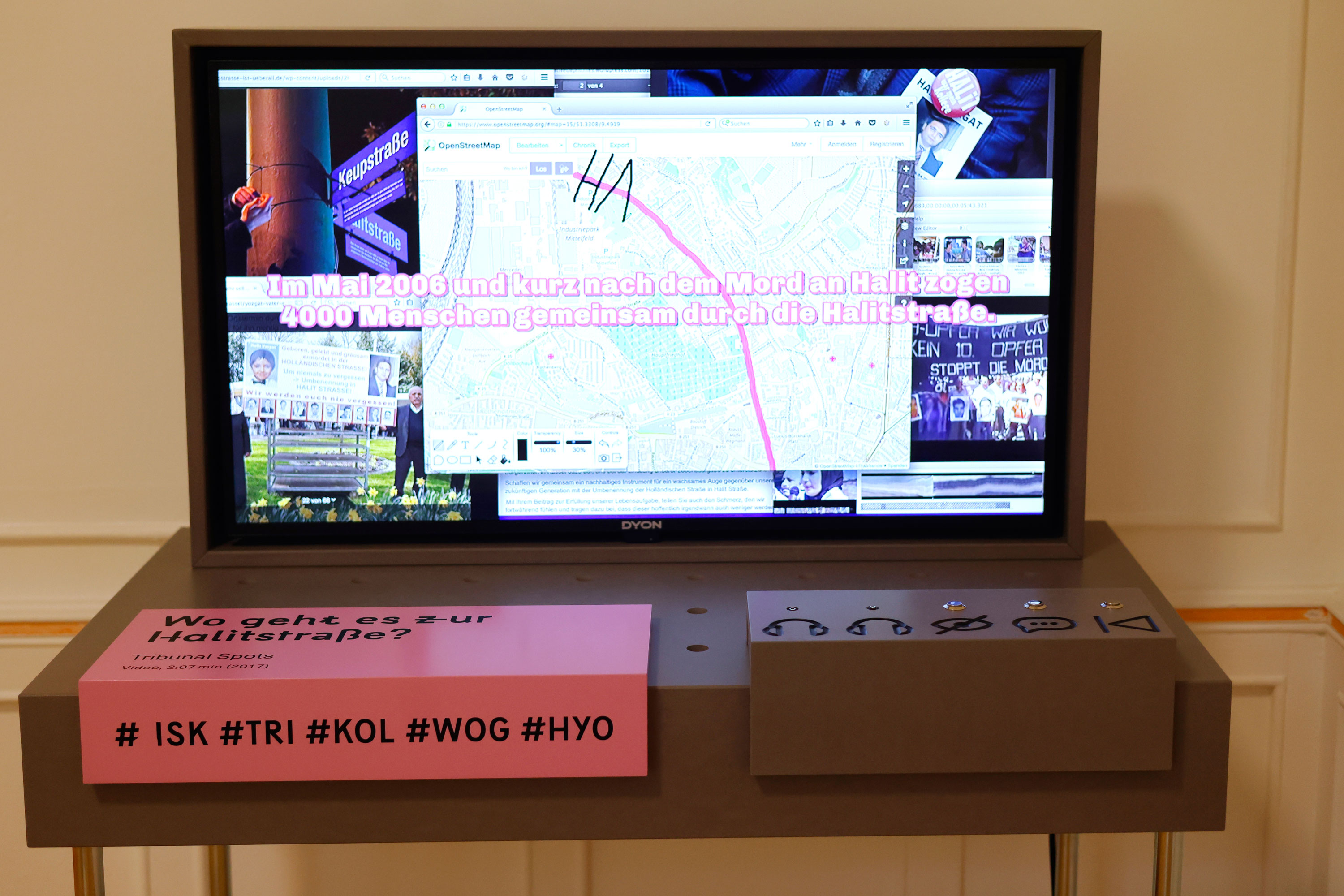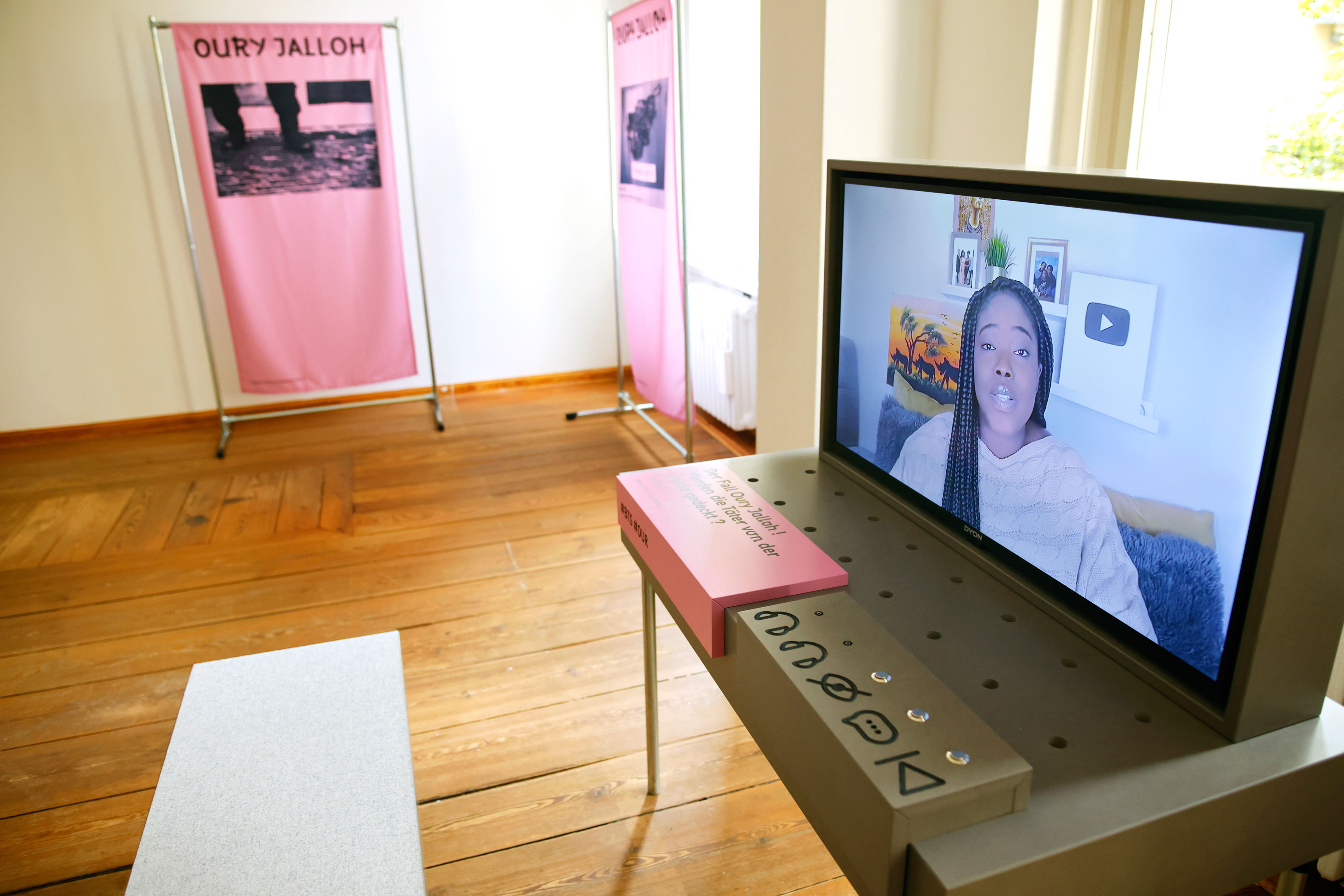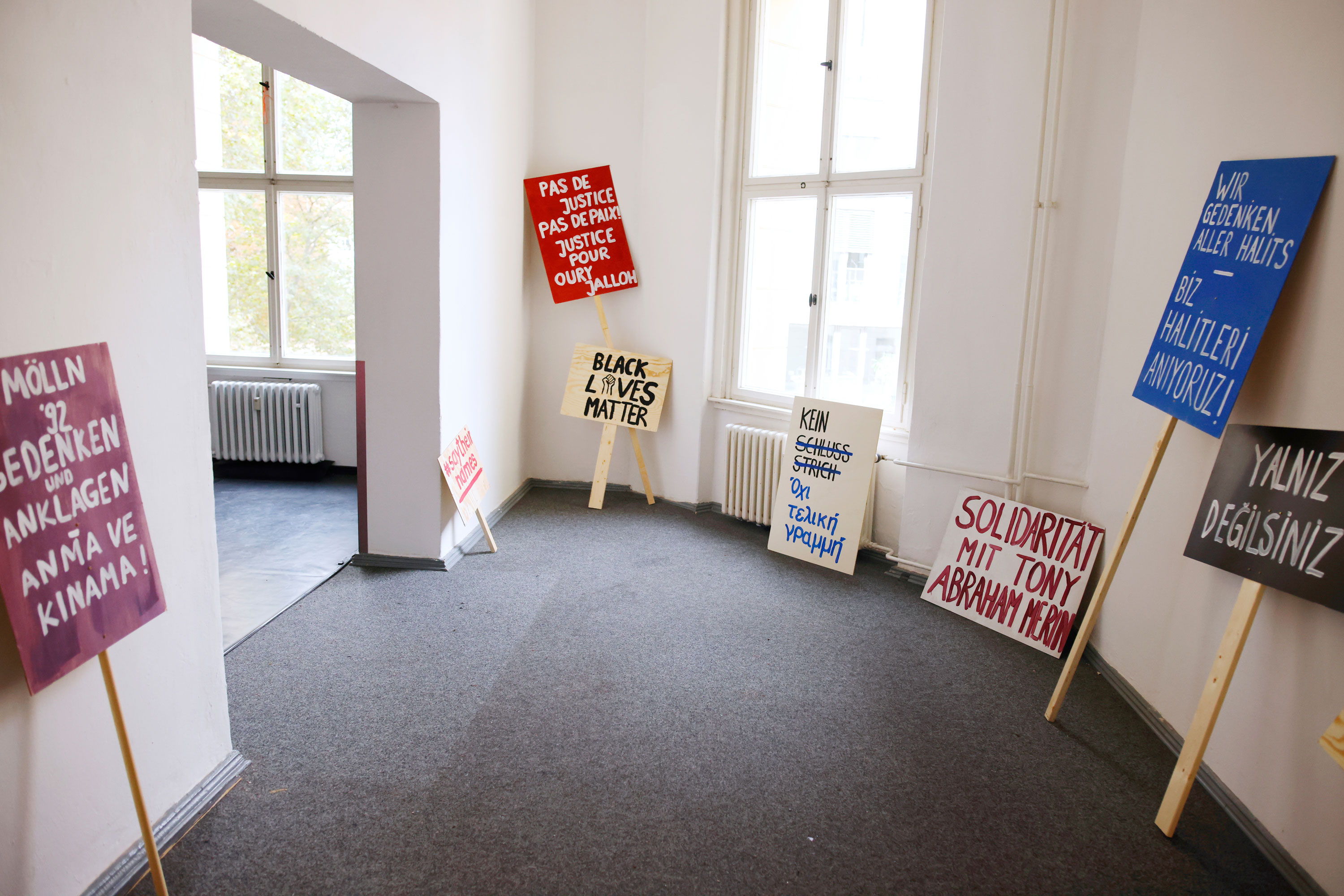 Exhibition photos: Ute Langkafel
»The violence after the violence«. The curators Ayşe Güleç and Tunçay Kulaoğlu in conversation, in Gorki season brochure #23 (p. 22)
Curators Ayşe Güleç & Fritz Laszlo Weber Curatorial consultant Gorki Erden Kosova Scenography Pia Grüter Stage DesignJeeyoung Shin Dramaturgy Gorki Edona Kryeziu Artistic project management Elena Sinanina Production management Alexa Gräfe Technical direction Joachim Hering
Accompanying the exhibition from 1/October until 12/December/2021, there was an extensive educational programme with guided tours and workshops as well as an extensive programme entitled '61–'91–'21: IMMER WIEDER DEUTSCHLAND with discourse formats, concerts, readings and film screenings.
The exhibition is a cooperation with Offener Prozess (www.offener-prozess.de), a project by ASA-FF e.V.
The Berliner Herbstsalon is funded by the Region of Berlin, Senate Department for Culture and Europe.
Projetteam Offener Prozess (ASA-FF e.V.) :
Die Ausstellung ist entstanden im Rahmen des Projekts Offener Prozess – NSU- Aufarbeitung in Sachsen des ASA-FF e.V unter Leitung von Hannah Zimmermann und Jörg Buschmann.
Das Kurator\innenteam Ayşe Güleç und Fritz Laszlo Weber hat im Auftrag des Projekts Offener Prozess das künstlerische, gestalterische und kuratorische Konzept der Ausstellung entwickelt. Irène Mélix ist verantwortlich für die Ausstellungsproduktion und die Konzeption der Webausstellung. Für das Vermittlungsprogramm sowie die politische Bildungsarbeit im Kontext der Ausstellung sind Ayşe Güleç, Juliane Phieler und Hannah Zimmermann verantwortlich. Ausstellungsgestaltung und -grafik: please don't touch. Programmierung und Medientechnik: YNT Studio. Produktion: Borgmann Ausstellungsbau und Design GmbH. consultant in residence: Sandra Plessing. Layout: Thanh Nguyen Phuong. Programmierung: Daria Samokhvalova. Einfache Sprache: Anne Goldbach, Lucia Staib, Nico Leonhardt, mit Unterstützung von Beate Schlothauer, Frank Pöschmann, Maria Naumann, Sebastian Wenzel. Übersetzungen: ADD teweS Sprachdienst. Beratung: neue untend\ckte narrative