Works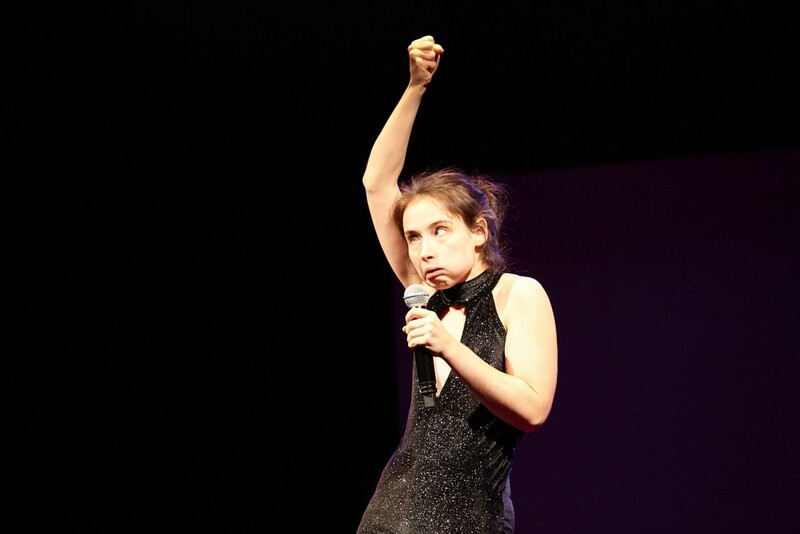 Valeska Gert, given name Gertrud Valesca Samosch, was born in Berlin in 1892. During the 1920s the Jewish actress was one of the most important dadaist dancers in Berlin. After the Nazi takeover, Gert's art was described as degenerate, so she left the country. Decried in the US as »a disgrace to the entire emigration«, this eternally de-integrated person staggered between stations of exile and remained, quite literally, unfathomable. As a re-migrant she returned to Berlin after the war. Actress, writer, and musician, as well as boundary breaking personified, Marina Frenk summons Gert out of her pink coffin and puts her back on the boards through dance and story in our post-post-post-dadaist period.
The production premiered during the Radikale Jüdische Kulturtage 2017 (funded by the Kulturstiftung des Bundes and Senatsverwaltung für Kultur und Europa)
FUCK YOU, Eu.ro.pe!
A young woman is supposed to write an essay on the topic: "What has my country done for me, and what have I done in return?" Instead, she writes a letter to her father. To her "home country", whom she addresses as "Papa". Or maybe it really is her father after all. A powerful man who can represent everything: state, fatherland, family. A furious kaleidoscope of perspectives on Moldova in the post-Soviet era. Nothing is certain, everything immediately falls apart.
The winner of the Romanian dramAcum prize, the internationally-renowned associative monologue FUCK YOU, Eu.ro.Pa! was banned after its publication in Moldova. Still highly relevant, it tells of much more than just a short period in the history of the former USSR.
Marina Frenk was born in 1986 in Chisinau, Moldova. She studied acting at the Folkwang Hochschule in Essen and played from 2008 to 2015 in permanent engagements at Schauspielhaus Bochum and Maxim Gorki Theater Berlin, among others. In 2017 she performed the production Valeska Gert - The Animal Show for the Radikalische Jüdische Kulturtage in the studio Я, which was invited to the Radikal jung 2018 - Das Festival für junge Regie.