Works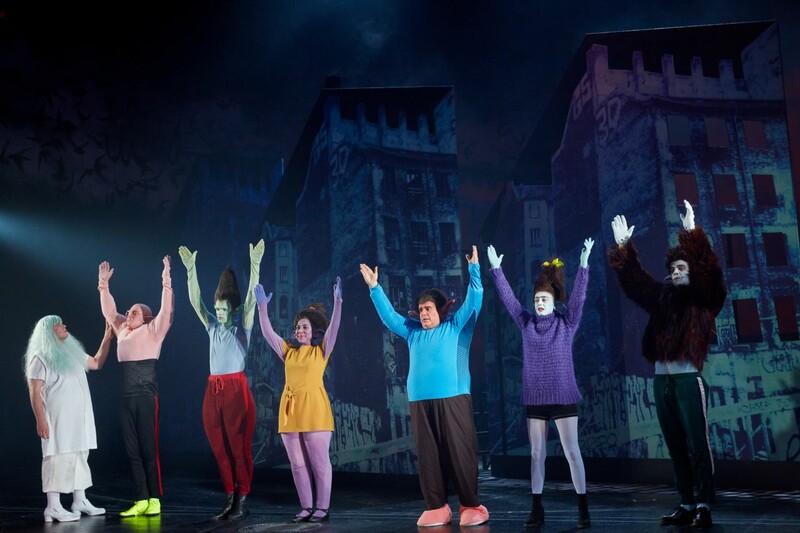 They live in digital isolation on a road that feeds into the motorway, painstakingly kept in form with clothes off the rack. They don't have much to say to themselves or to others, their memories aren't worth mentioning, the future certainly isn't either, and all conversations with the children, cats, neighbours were broken off long ago. The homo europaeus of all genders and ages in Sibylle Berg's new play have gotten snagged in a queue of automatic replies to the search for meaning. But there are ways out of the crisis! Berg puts a society in psycho-tectonic precariousness on her therapist's couch. His name is "Hassmaster" and, in three lyrical flaps of a wing, he leads his patients from analysing misery through recognising anger to resolving all problems. In a co-production with the Wiener Festwochen, Ersan Mondtag stages Berg's vicious farce as a Singspiel with music composed by Beni Brachtel and Benny Claessens as the dark angel of group therapy.
In Co-production with the Wiener Festwochen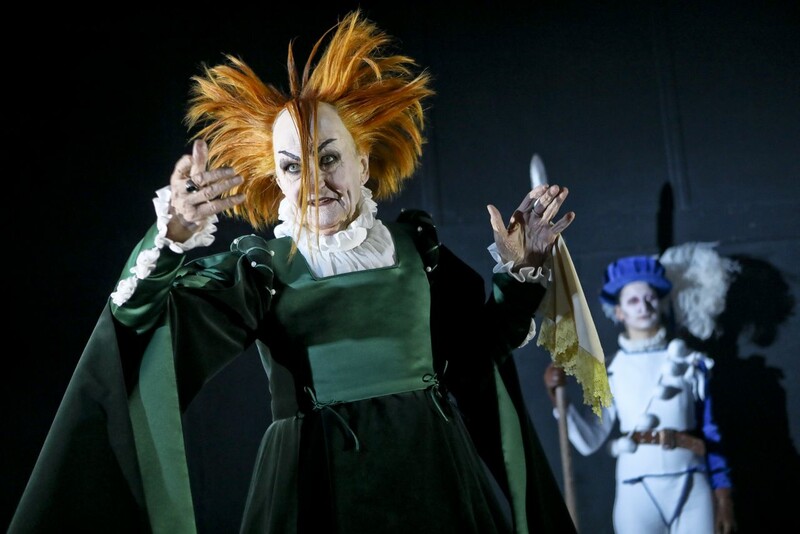 Im Palästina kurz vor der Erfindung des Christentums herrscht Herodes Antipas als Statthalter der römischen Besatzungsmacht. Sein Einfluss schwindet, ihm droht das Schicksal einer politischen Lame Duck – Druck aus Rom, Druck von der Straße oder besser gesagt aus der Wüste, wo sich um den radikalen Täufer Johannes eine immer größer werdende Schar von Fanatikern sammelt. Herodes feiert ein Fest, um sich Luft zu verschaffen. Aber sein Begehren nach Salome gibt ihm, seinem Hof und vor allem Salome keine Ruhe. Diese hält sich lieber vor der Festung auf. Die Wüste verspricht die Verheißung der Leere und der Übersichtlichkeit, der Klarheit und der Reinheit. Diese Gedanken ergreifen Salome und später den ganzen Hof wie eine Infektion. Doch statt Ordnung bringt der Fundamentalismus den Untergang. Thomaspeter Goergen bricht aus der Vorlage Oscar Wildes einzelne Motive heraus und treibt so das berühmte fin-de-siecle Stück ins Dilemma der Jetztzeit – Perversion und Fundamentalismus als das zerstörerische Gemisch aus diffuser Angst und realer Macht. Ersan Mondtag inszeniert diese Zuspitzung bildgewaltig und lustvoll düster: »Die Besten von nichts überzeugt, die Schlechtesten leidenschaftlich besessen.« W. B. Yeats
Ersan Mondtag, born in 1987. His productions at theatres in Frankfurt, Kassel and Dortmund have been invited to the radikal jung and Berlin Theatertreffen festivals. Most recently, Mondtag staged Salome at Maxim Gorki Theatre. His works were previously shown at the 2. and 3. Berliner Herbstsalon (2013, 2017).