Works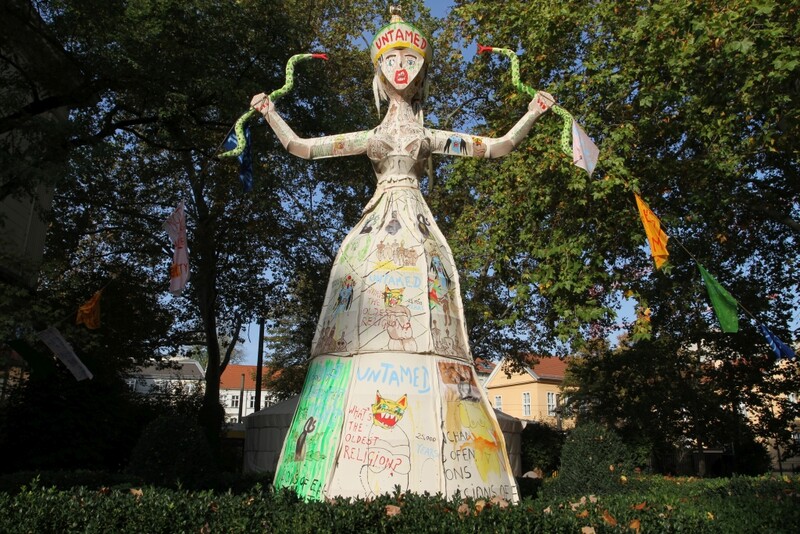 Delaine Le Bas conjures up a witch goddess hat sits in front of her temple at the garden of Gorki – a place of reflection, encounters and expansion of consciousness. This is also the place where theater shaman and Gorki resident director Yael Ronen and guests are going to present workshops, lectures, rituals and ceremonies. Together they were practicing the culture of the post-patriarchy.
Photo: © Lutz Knospe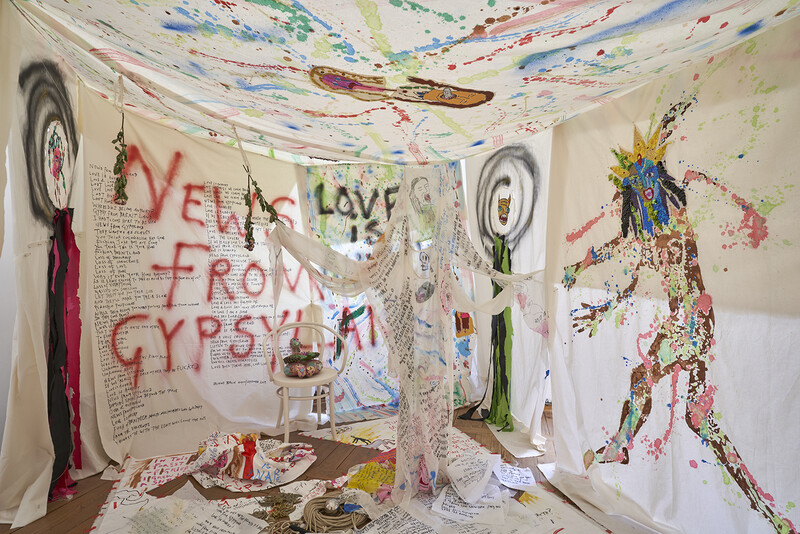 By incorporating a large number of found objects, textiles, performances and film footage, Le Bas creates a tangible experience of the intolerance, misrepresentation, of the expulsion and homelessness confronting the Roma community. Le Bas gives a voice to people who have historically been depicted as adversaries and thus makes visible the communities that are on the margins of society. For the 4. Berliner Herbstsalon, Le Bas has created a new edition of her installation. In cooperation with Justin Langlands, she developed a soundscape for the work. Doll III was created in collaboration with Paul Green.
Courtesy of Delaine Le Bas and Justin Langlands, Photo: © Egbert Trogemann, VG Bild-Kunst Bonn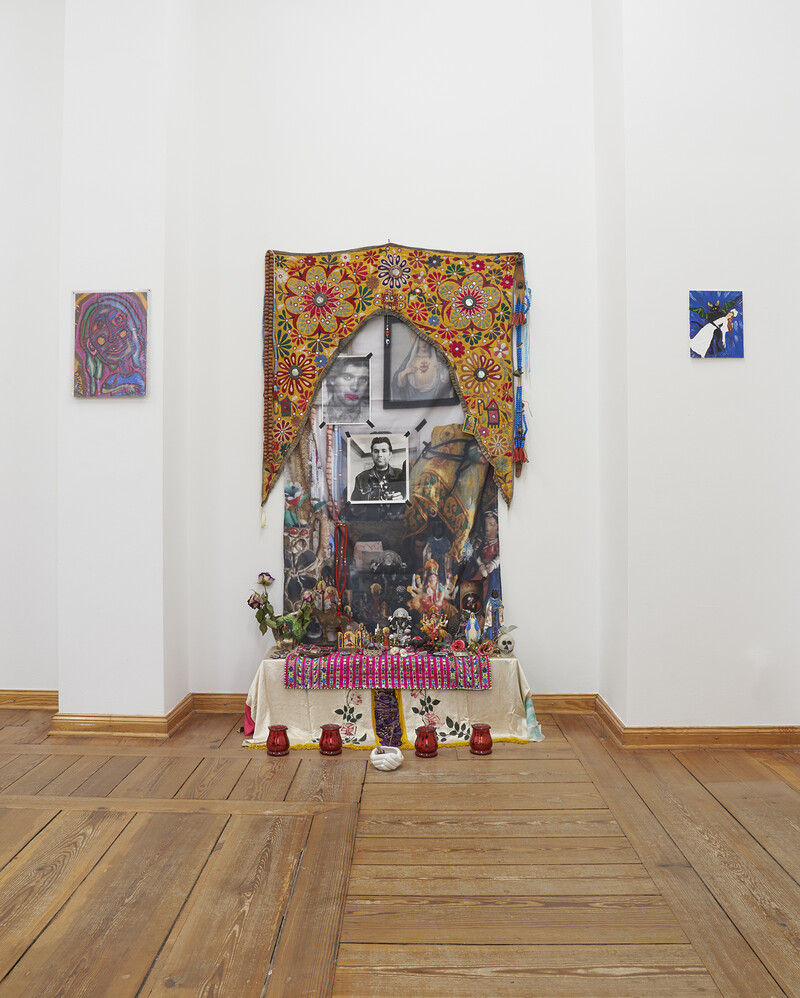 Religious statues, an aftershave flacon, photographs: The shrine that Le Bas crea­ted for her husband and companion Damian Le Bas is made of memories of time spent and works made together.
Photo: © Egbert Trogemann, VG Bild-Kunst Bonn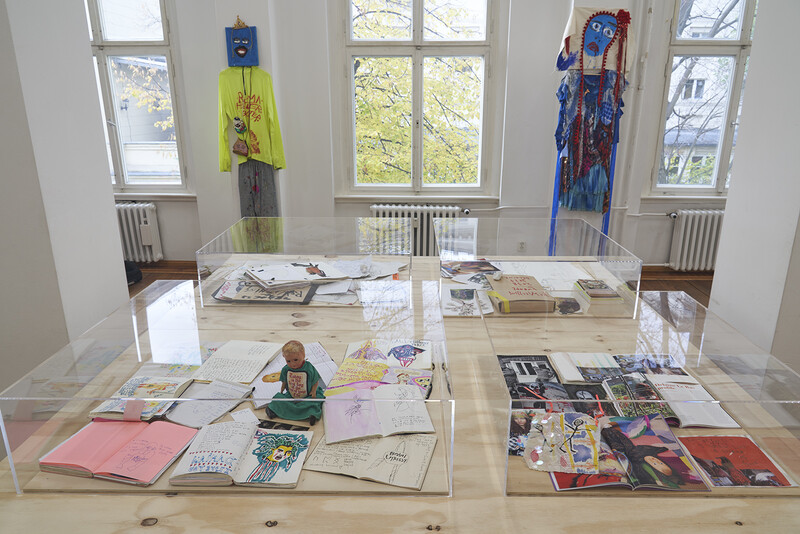 Drawings, portraits, photographs and poems create a fragmentary outline of Le Bas' oeuvre, a body of work that consistently encompasses aspects of myth formation, national and global politics, especially with regard to the role of the Roma community in Great Britain. It becomes apparent that Le Bas' work is closely linked to her everyday life, personal perceptions, past experiences and dreams. Many of the exhibited objects and works were created together with Le Bas' husband Damian Le Bas, who passed away in 2017. Le Bas tells a story of love, loss and collective artistic creation.
Photo: © Egbert Trogemann, VG Bild-Kunst Bonn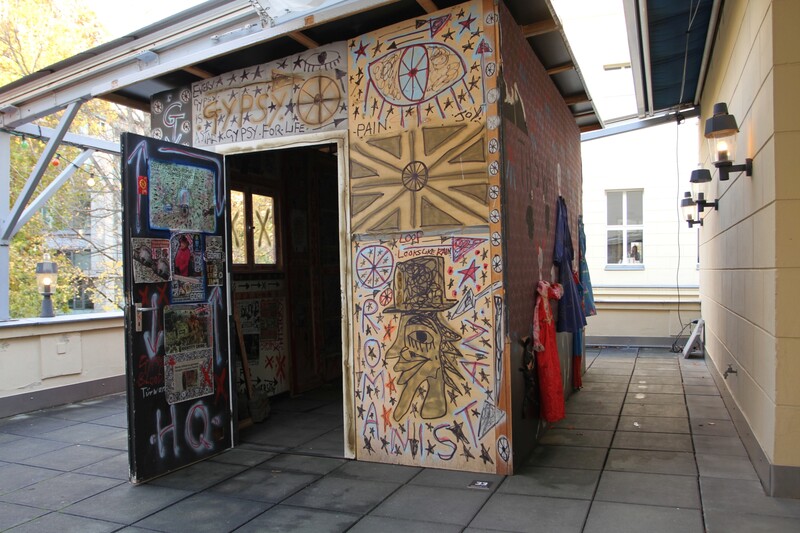 This mobile installation and ongoing project has travelled around the metropolitan centres of Europe. Materials posted on its walls have revealed a darker agenda and alluded to ongoing policies in the European Union and its member states that foster deregulation, inequality and discrimination. The artists opened up a platform through the structure to discuss effective measures for establishing equality in favour of marginalised groups, such as the Romani people.
Photo: © Lutz Knospe
Delaine Le Bas, born 1965 in Worthing. Her works have been presented at the Venice Biennale (2007, 2017, 2019), the Tate Modern (2017), and the Gwangju Biennale (2012). She is curator of the First Roma Biennale COME OUT NOW! (2018). At Gorki, Delaine Le Bas most recently designed the costumes for the production Rewitching Europe and Roma Armee. Delaine and Damian Le Bas participated in 1., 2. und 3. Berliner Herbstsalon.