Works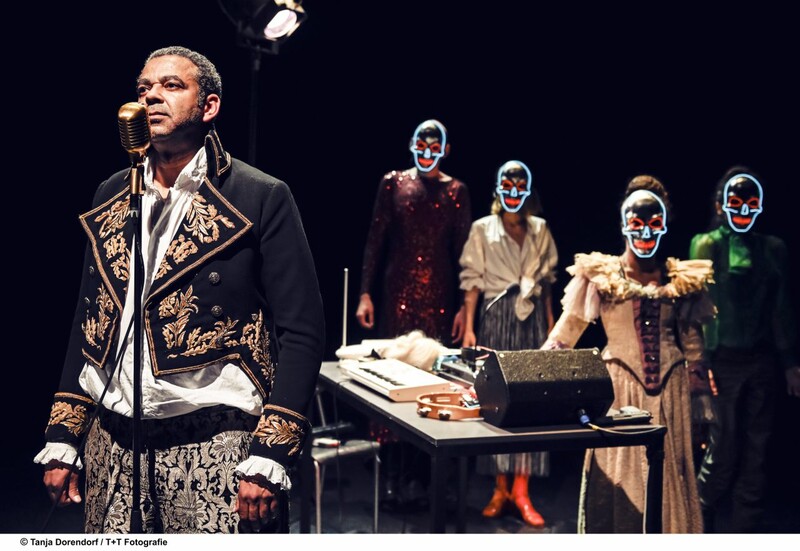 Revolution is raging in Haiti. After more than a hundred years of slavery, the subjugated populace is fighting for freedom. One night, young Gustav, a nobleman from Switzerland, knocks at the door of Toni, foster daughter of one of the revolutionary leaders, asking for protection while escaping from the revolutionary troops… Toni must decide – there's no time for revolutionary romanticism.
In Die Verlobung in Santo Domingo (Betrothal in St. Domingo, 1811), Heinrich von Kleist's novella published shortly after the French Revolution, the author recounts a dramatic love story against a backdrop of revolution, and describes two clear fronts: white versus black, good versus evil, order versus anarchy. Yet how will the story go when it isn't clear who is friend or foe when it comes to enlightened values? In his new play, Necati Öziri questions supposedly unambiguous positions and interprets the story with a new level of opposition that invites us to engage in a modern-day discussion about violence and counterviolence.
Photo: Tanja Dorendorf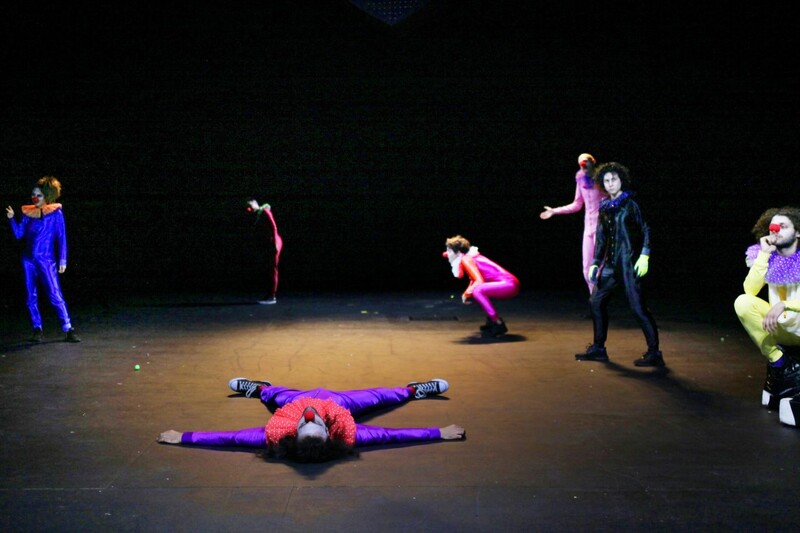 At the beginning of the 80ies, following Hamletmaschine, Heiner Müller wrote a dialogue that's only 14 lines long. The play begins with »ONE: May I lay my heart at your feet. / TWO: If you don't soil my floor. / ONE: My heart is pure. / TWO: We'll see about that.« This is followed by open-heart surgery, then »So that's it. But it's a brick. Your heart is a brick.« Maybe this little piece of text is nothing more than a gag. Perhaps it's just an étude from a tired playwright from before the Berlin Wall fell. But perhaps it's also Heiner Müller's next step as the great compressor of data. A play about love and time, about work and despair.
In Herzstück, Sebastian Nübling and his ensemble of hardworking harlequins are continuing the work they began with Hamletmaschine. Its short length makes Herzstück a provocation that aims at the core of the question of work. In times of flexible working hours and bullshit jobs, of neo-precariousness and the start-up proletariat, of exploitations disguised as freedom and much-hailed lack of alternatives, clowns highlight the holes in the procedure, the mistakes in the frictionless system of the pressure to perform that makes contemplation possible: for whom are we actually working how much on what?
Come in! Today we're showing: A little piece of heart about working on farce, about not working as rebellion, about theater as disruption and Heiner Müller as the head of a circus of rebellious clowns in the capitalist autumn.
Please note that there is no late admission possible after the beginning of the play.
Photo: Ute Langkafel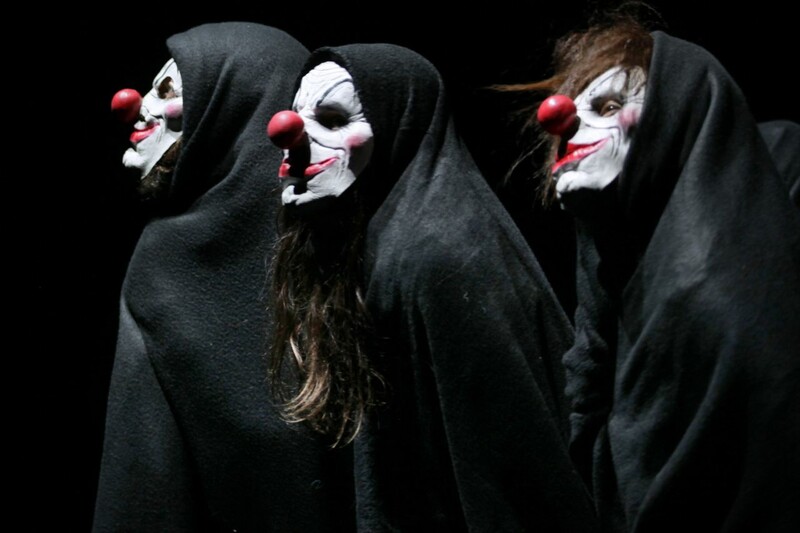 Thine evermore, most dear lady, whilst this machine is to him. Hamlet.
Shakespeare, Hamlet
These words conclude Hamlet's famous letter to Ophelia, in which he tries to tell the only person he loves that he's withdrawing from the structure of norms. The word »machine« only appears once in all of Shakespeare. It refers to the body, which, during the early part of the Enlightenment, was often referred to as a machine, as a marvel composed of many parts. Shakespeare's play itself is also such a machine of theatrical marvels. A reflection on death and religion, on norms and insanity, on power and powerlessness. And besides all this, it's also a grand text about the theatre itself.
In 1977, Heiner Müller adapted this text in Die Hamletmaschine, which carries »machine« in the title. The Exil Ensemble has been part of the Gorki since the 2016/17 season. Together with Sebastian Nübling, the ensemble's seven actors are investigating this and other texts, as well as researching their own positions in an open ended project. With Hamletmaschine, they're pursuing the dramatist who radically questions the intellectual's position in a world that is out of joint, dissecting Shakespeare, among others, and then putting the remaining fragments together again.
Photo: Ute Langkafel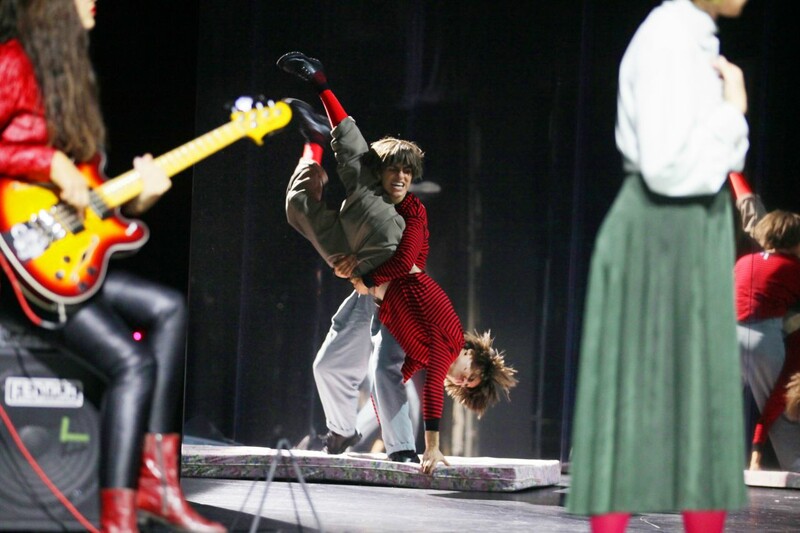 »There's been a shipwreck, two twins are separated, the sister puts on her missing brother's clothes and, as her brother, goes into an unknown kingdom to look for him. She finds him in herself. That's pretty much what's going on in Außer sich.«
Sasha Marianna Salzmann
Ali's twin brother Anton has disappeared. After years, a postcard without a sender arrives at her house with nothing more than the word »Istanbul« on it. Ali rushes into the confusion of that city: the streets turn, colours and contours blur. Ali begins to forget why she came and what she's looking for. In a club she encounters Katho, who guides her through Istanbul's night life, and she meets Aglaya, who becomes the symbol of the Gezi Park protests. And somewhere in bar mirrors and turned around the corner, she divines Anton and runs after him.
Ali tries to leave gender, language, countries behind, until she understands: there's no moving on if she doesn't know what came before. She decides to go back and undertake the task she has always run away from: questioning her family. Why did we leave so many times? What is this running in us? 100 years of Jewish family history take place via Odessa, Chernivtsi, Grozny, Volgograd, Moscow, Germany, Germany, Germany and then Istanbul at the harbour, where Katho talks about Odessa.
Resident director Sebastian Nübling ventures with the ensemble into this opulent landscape of characters and stories. An odyssey of changes and upheavals. What does it mean today to be able to say »I«? Potential fragments of identity are always looking for new configurations.
Photo: Ute Langkafel
Sebastian Nübling was born in 1960 in Lörrach and lives in Hausen. He was invited to the Berlin Theatertreffen and participated at La Biennale di Venezia. Nübling has been an in-house director at the Gorki since the 2013/14 season. His work was previously shown at the 3. Berliner Herbstsalon (2017).