Works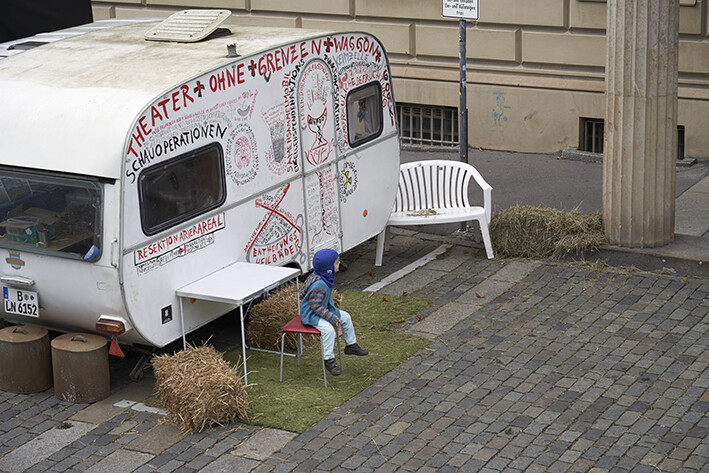 After their Desintegration Camp at the Gorki garden for the 3. Berliner Herbstsalon, the Lebensdorn Heilanstalten invite you to an open day with an exciting De-heimatize
program:
31/OKTOBER 18:00 I. Heilbäder zum Abschrubben unseres Drachenblutpanzers
07/NOVEMBER 18:00 II. Schauoperationen zur Resektion des Arierareals
08/NOVEMBER 16:00 III. Konfektionen / Konventionen – Einkaufsbummel über dem Führerbunker
10/NOVEMBER 16:00 IV. Volksspeisung in Schrippenkirchen-Tradition inkl. Lebensdorner-Backstuben-Führung
12/NOVEMBER 18:00 V. Erweiterter Heimatbegriff mit Žižeks Koch-den-Frosch-Gleichnis
14/NOVEMBER 18:00 VI. Reproduktions-Revolution mit Eizellen-Spendenaktion zum Umsturz des Patriarchats im ehemaligen Samensammel-Mobil.
Photo: © Egbert Trogemann, VG Bild-Kunst Bonn and © Lutz Knospe
The playwright Nina Ender, 2018 premiere of her recent play Siegfried Simulieren at the Pfalztheater Kaiserslautern, and Stefan Kolosko, actor (o.a. Christoph Schlingensief and Frank Castorf) and currently at the Staatstheater Hannover, where he is setting up a citizens' chorus, have been staging together since 2011.