MFA-Public Art and New Artistic Practices der Bauhaus Universität Weimar
Works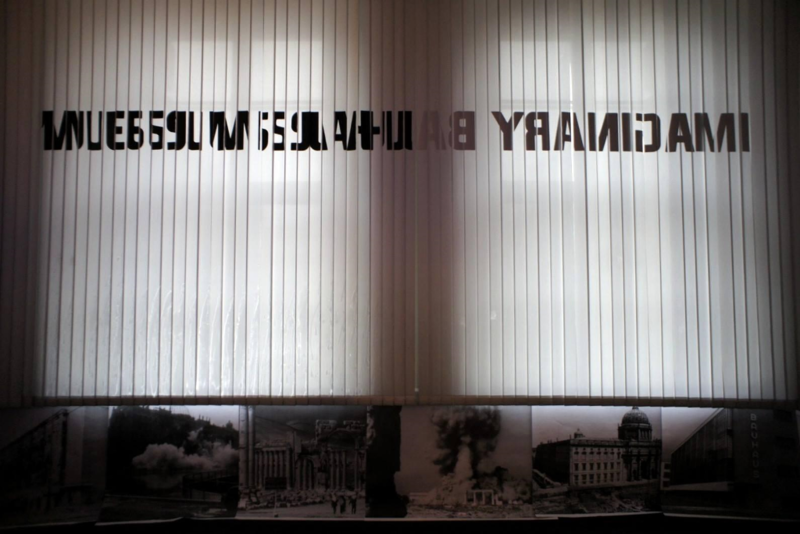 Flight and migration are also shaping the historical legacy of Bauhaus. In the framework of the exhibition, interventions, participatory installation and performances in and around the Palais am Festungsgraben are being developed, which deal with the topic of flight in a museum of the future. Part of the daily changing programme are already existing works and public lectures under the direction of the cultural scholar Dr. Boris Buden.
IMAGINARY BAUHAUS MUSEUM is a project series of the artistic research by Prof. Danica Dakić in collaboration with Dr. Boris Buden, Ina Weise, Claire Waffel, Jirka Reichmann, students and alumni of the M.F.A., as well as the photographer Egbert Trogemann. In several exhibitions a constantly changing museum collection is being produced. The IMAGINARY BAUH AUS MUS EUM draws on inspirations from a dialogue with the historical Bauhaus and opens itself in a transformative process to the social, economic and political realities of the present and future.
Director: Prof. Danica Dakić
With: Yoav Admoni, Marilena Aligizaki, Angélica M. Barón,Vanessa Brazeau, Nicolas Buenaventura, Antonije Burić, Vienne Chan, Isaac Chong Wai, Devran Doğaroğlu, Burak Erkil, Jazmin Gabriela Flores del Pozo, Em**rah İnandım, Yun Ju Park, Ada Kai-Ting Yang, Ahmet Kavas, Rebecca A. Layton, Sujin Lim, Vasili Macharadze, Atsuko Mochida, Maayan Miriam Mozes, Mila Panić, Mariya Pavlenko, Noor us Sabah Saeed, Paloma Sanchez-Palencia, Filipe Serro, Lena Skrabs, Natsumi Sugiyama, Saša Tatić, Ginna Vélez, Claire Waffel, Maria Walcher, Ina Weise, Daphna Westerman, Yuequn Zhang und weiteren.
IMAGINARY BAUHAUS MUSEUM GOES GORKI is funded by Kreativfonds der Bauhaus-Universität Weimar, Kulturstiftung des Bundes and Stiftung Mercator.