Nina Fischer/Maroan el Sani und Bertold Stallmach
Works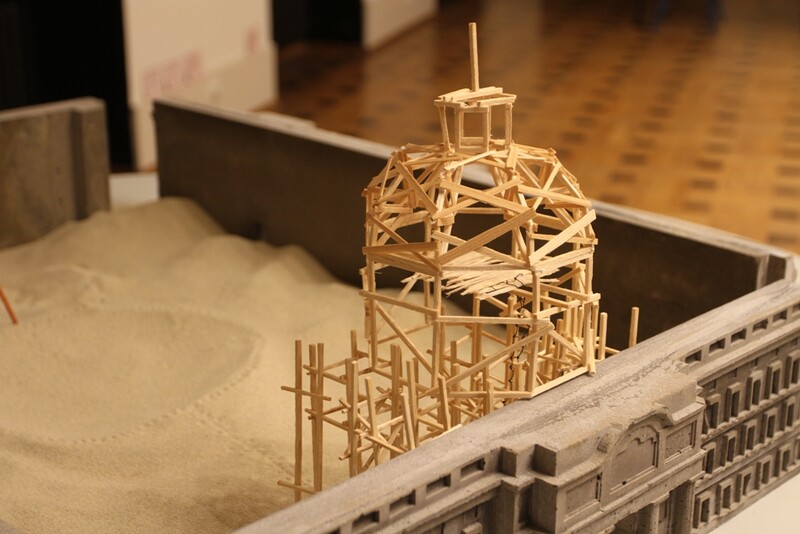 Fischer and el Sani present a raw concrete body of the reconstructed Berlin castle. It toys with a future scenario: the reconstruction of the castle is left abandoned and the shell gradually fills up with a big sand dune. The newly constructed ruin serves as a perfect memorial to the absurd political decisions that have determined the Castle's fate and as an open forum for new ideas. The sculptural object is contextualised by a three part video imagining a journey which explores the limits of geographical, artistic and social identity and authenticity. The genesis of Identity's Rule of Three lies in the heated debate unleashed around the creation of an ethnological museum in the rebuilt castle of the city of Berlin.
Courtesy of the artists and Galerie EIGEN + ART Leipzig/ Berlin.
Nina Fischer/ Maroan el Sani work together as an artist duo and are based in Berlin. They participated in Manifesta 4, Frankfurt (2002), Istanbul Biennal (2007), SeMA Biennale, Seoul (2012, 2014) and Curitiba Biennale (2013). Solo Shows at Metropolitan Museum of Photography, Tokyo (1998), K21-Kunstsammlung Nordrhein Westfalen, Düsseldorf (2016) and Maxxi Museum, Rome (2017).