*foundationClass der Weissensee Kunsthochschule Berlin
Works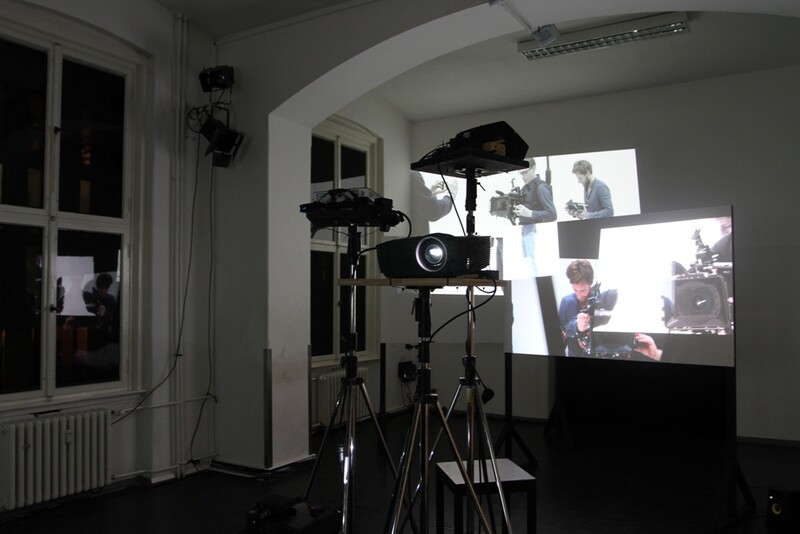 The *foundationClass, founded at weißensee kunsthochschule berlin in 2016, collectively strives to provide the ground for equal access to formal art education, as well as to the arts and cultural sector. Situated within the institution but rejecting to embody it, the collective scrutinizes the art academy as a powerful site of knowledge production. Refusing to be integrated into an economy of difference, the *foundationClass aims to formulate strategies that position them outside of the grid of representation. Together they want to find answers to the question of how an art school of the future would look like if it genuinely recognised migration as an essential societal factor.
The collaborative video work explores desintegration as a structural principle for collective film making.
A film set becomes a prop to enter what Stefano Harney and Fred Moten call study: »[…] study is what you do with other people. It's talking and walking around with other people, working, dancing, suffering, some irreducible convergence of all three, held under the name of speculative practice. […] The point of calling it 'study' is to mark that the incessant and irreversible intellectuality of these activities is already present.« (The Undercommons: Fugitive Planning & Black Study, Autonomedia 2013, Page 110 )
Anwar Al Atrash, Syrian Artist, born 1979 in Damascus, graduated (fine arts) 2005 in Damascus, currently based in Berlin.
Fadi Aljabour, visual artist, born 1980 in Damascus, studied sculpture in Damascus, currently based in Berlin, taking part in exhibitions in London, Spain, Bahrain, Jordan.
Marwa Younes Almokbel, visual artist, born 1991 in Damascus, syria, studied printet graphics at the University Damascus and lives now in Berlin.
Aram Al Saed, visual artist with focus on painting and photography, from Syria and based in Berlin.
Mira Debaja is a Berlin-based Jordanian/Lebanese digital painter and comic illustrator, born 1983 in Baghdad, Iraq.
Amel Alzakout is an artist and puppet maker, born 1988 in Syria, based in Berlin.
Mohamad Halbouni, visual Artist, born 1993 in Damascus, studied sculpting between 2012-2015 at Damascus University, faculty of fine arts. Currently based in Berlin.
Dyaa Naim is a Berlin-based artist, involved with video work and acting, born 1994 in Damascus.
Ramin Parvin is a painter and filmmaker based in Berlin, born in 1982 in Iran.
Manar Sheikh, visual artist and graphic designer, born 1984 in Damascus, syria. He studied at the University Damascus and lives now in Berlin.
Nour Nasreddine, scenographer, born 1991 in Damascus, graduated at the high institute of dramatic art 2013, currently based in Berlin.
Oula Soleman, sculptress, born in Syria 1988, graduated from Aleppo University, Faculty of Fine Arts.
Yara Sulaiman 1994, born in Syria, based in Berlin. Prospective architecture student.