Works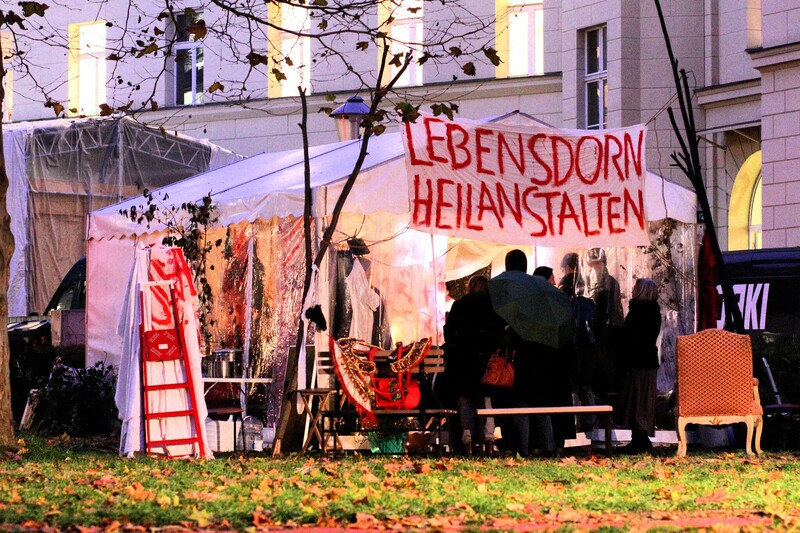 In the middle of the Gorki garden, a field camp appears, from which shreds of myth and spoken melodies sound. Battalion and audience are reborn into a unique choral monstrosity, in order to strike out against the presumption that everything should be the same language, culture, normality. Ejected from the womb of the theatre, the choir and audience head to ten places in the centre of Berlin. They fill the glaring wounds that don't want to heal with sound and ask: Is the nation of Goethe and Schiller a country of poets and thinkers, or a country of judges and executioners? A melodic stress test about diversity.
By Nina Ender and Stefan Kolosko With Bewohner*innen des Wohnheimes Schrippenkirche, der Behindertenhilfe Wedding des Deutschen Roten Kreuzes, der Wohnstätte Oranienburger Straße der Lebenshilfe Berlin, Justus Dunger, Nina Ender, Samira Ibrahim, Stefan Kolosko, Dietrich Kuhlbrodt, Olivia-Patrizia Kunze, Elke Lorenz, Helga Marquardt, Helga von Paczensky, Lukas Rauchstein, Ekkehard Roth, Pia Rudloff, Ariane Unverwerth, Manuel Schulz, Stephanie Stremler, Nicole von Zobeltitz und viele weitere.
As well as Janina Akhmetova, Nica Bühler, Ivana Connert, Justus Dunger, Constanze Gebhardt, Ralph Grawe, Norbert Hartwig, Anja Jacobsen, Shirly Klengel, Sonia Maria de Oliveira, Nina Reeck, Hamid Rezai, Charlotte Rudolph, Joanna Merete Scharrel, Emma Schmidt, Nina Schwartz, Mieke Schymura, Roswitha Ullrich, Melanie Witteborg, Gunnar Wollmerstädt und die Künstlergruppe der Wohnstätte Parchimer Allee der Lebenshilfe Berlin und vielen weiteren.
Starting point of the ten city projects: Feldlager Babel-Stadt in the Gorki Garden
12/ 18/ 25 November, 3 pm
15/ November, 4 pm. Registration for this date neccessary. Please email your name and birthdate to enderkolosko@gmail.com.
16/17/ 23/24 /26 November, 5 pm
This installation will be there permanently throughout the opening hours of the Herbstsalon.
Most recently the playwright Nina Ender received the Stückepreis der Berliner Schaubühne as well as the Else-Lasker-Schüler-Stückepreis 2016. Stefan Kolosko has worked as an actor for Einar Schleef, Christoph Schlingensief and most recently for Frank Castorf. ENDER/KOLOSKO have staged productions together since 2011 among others at Kampnagel Hamburg and Theater Oberhausen.